Vehicle-related tips
We have put together a few items related to the vans. These vehicle-related tips will help you to estimate the volume of your move, and ensure the van can access your property at both ends of the journey.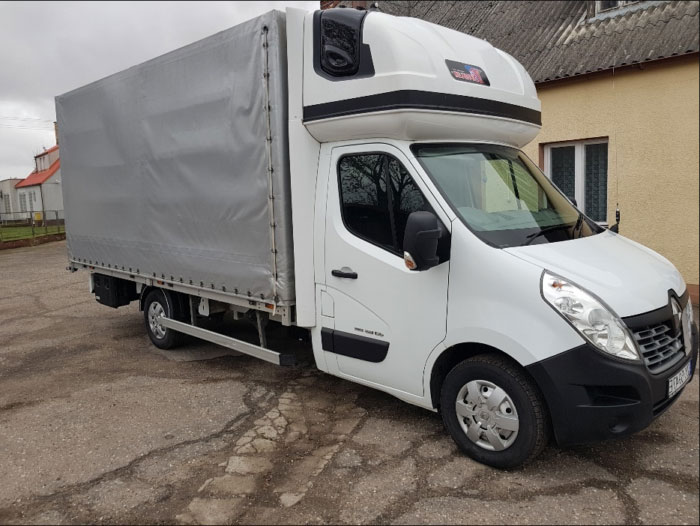 Vehicle-related tips:

Our vans
We have vans travelling every day in every European country. Most of them are the 3.5 ton Luton vans, with the following external dimensions:
Always check with your Move Coordinator before collection and delivery for clarification.
A Luton Transit is one of the workhorses of the removals industry. It's a very popular removals van for many reasons. This type of vehicle is manoeuvrable and not too big. It will park on your drive if you have one. Also, for larger volumes, two vans together are generally quicker and cheaper than a single, larger one like a 7.5 ton.
A Luton van holds 20 cubic metres and can carry up to 1,000kg. In some countries, the same vans cannot legally carry more than 800kg. The maximum volume, however, remains unchanged. A van of this size can usually cope with a small-to-average sized house move. Unless you're a severe hoarder, you will probably be able to fit your belongings from anything up to a two-bedroom house into a domestic removals van like this.
Vehicle-related tips:

The critical issue of weight
Estimating the weight is difficult. This weight constraint is the reason we advised you to weight every item as you packed in our Packing room by room pages.The driver can sometimes advise when the van is overloaded although this can be difficult even for the most experienced drivers! In some circumstances and for full loads only we can arrange to send the van to a weighbridge in your area if there is one available. This may incur extra charges depending on the cost and location of this service.
For clarification, the customer is responsible for estimating the weight of their removal. If the police stop the van for being overweight, the customer will need to pay the fine. If we need to send another vehicle to take off the excess weight the cost for this will also be the responsibility of the customer.
Should we be unable to reach you at the time, European Moving may cover these costs to keep the vans moving. In this case, the customer will need to pay back all additional charges before starting to unload.
The charge for an additional van will depend on the location of the stopped vehicle and where the closest available van is. Please remember the cost of this will be in addition to the fine.
You would have to pay the total amount of the fine, plus the charge to get a van to where the first vehicle and from there to your destination.
Vehicle-related tips:

Estimating the volume of your move
The payload needs to be adequately estimated. We have devised this online calculator for your perusal. All you need to do is fill-in the middle column (quantity) with the amount of each item, room by room.
We prefer to work in cubic meters as opposed to cubic feet but were happy to talk in either if you wish. Here is an online converter to convert cubic feet to cubic meters.
If you need any help with estimating the size of your load, please contact your sales representative. You can always forward a copy of your inventory to one of our load planners. We shall work it out based on industry averages. We are here to help and make your move as smooth as possible.
Vehicle-related tips:

Access to your property
It is essential that we know as much as possible about the access details of both collection and delivery sites to give you an accurate quote. If we discover an inadequate or undeclared access issue – for example, if you are on the 3rd floor of a building and do not have a lift and you have not advised us of this – we shall have to charge you for the extra work.
Also, please ensure that you have checked the access requirements and restrictions at both the loading and unloading ends. For example, if any doors or windows need removing, you need to remove them before we arrive at your destination.
You must ensure there is good access to your booked vehicle at both the collection and delivery address. You should also arrange for any parking permits if necessary before the collection or delivery day.
Please make sure that the distance between parking space and property (at both ends) is kept to a minimum. Should it exceed 30 metres or thereabouts, please advise your Move coordinator as soon as possible. We may charge you extra if the distance is too great or if you failed to notify us.
If there is not adequate parking for the vehicle to stop, and that results in a parking fine, the customer is responsible for the payment in full before the driver leaves the property.
Let your neighbours know in advance so that they are prepared for any disturbances on your collection or delivery day. Not only is it polite, but they may even offer a helping hand or a cup of tea!
Make sure that you have the adequate manpower to load all of your items onto our vehicle and unload it at your destination. If you have booked our TRANSPORT ONLY level of service, this element becomes crucial as the driver will only help from the van.
Vehicle-related tips:

Loading the van
Think about the load like a jigsaw puzzle and utilise any space as best you can.
Place more substantial pieces, such as wardrobes and sofas against the front internal wall of the van behind the cab. Secure them properly with ropes or straps. Our vehicles come with straps as standard, but it is always good to have some rope handy for extra support for unusually heavy items. Remember our vans do not come with blankets.
Place large, sturdy items on the bottom layer and the more fragile things on top. Use smaller items such as rugs and cushions to plug holes and fill gaps. Blankets and sheets are useful as they give extra protection. Long fragile objects, like mirrors or paintings, will fit nicely between mattresses. Finally, make sure everything is properly secured.